back to all recipes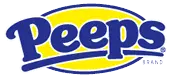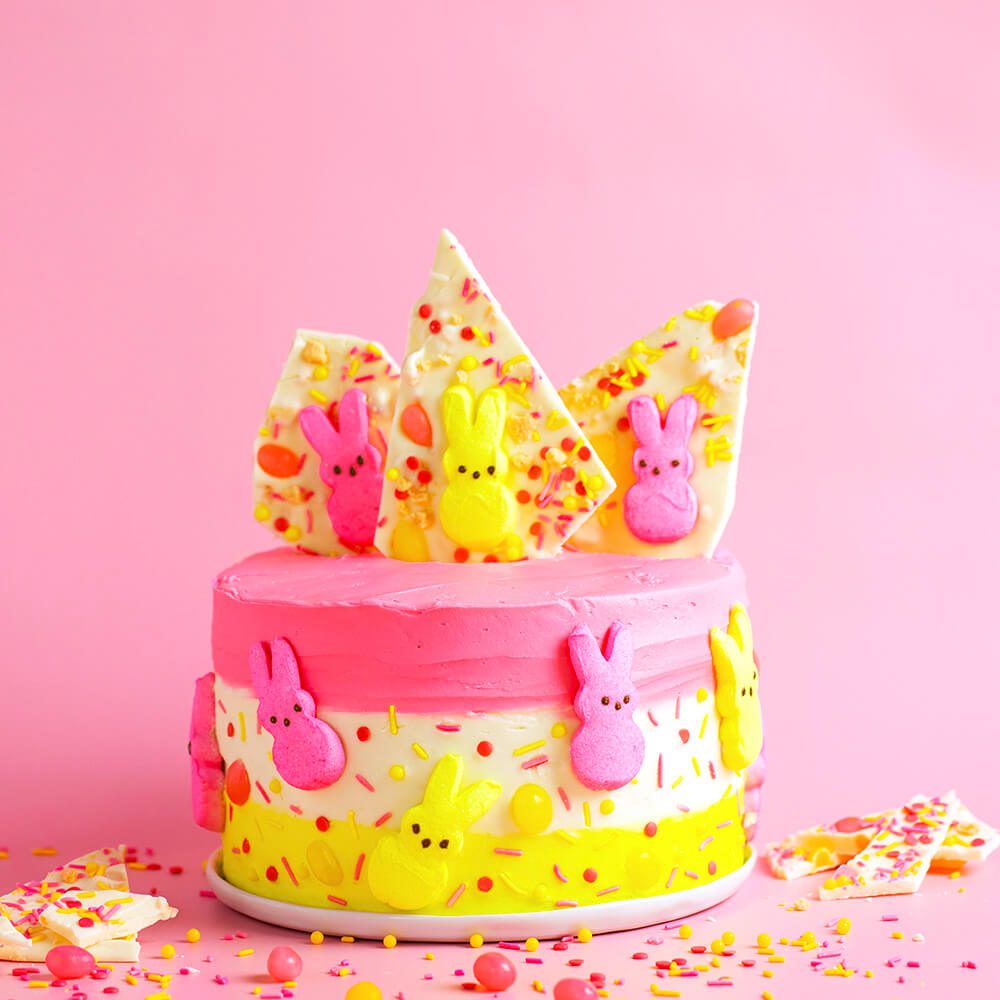 Strawberry Lemonade PEEPS® Bark Cake Recipe
Our strawberry lemonade cake recipe is decorated with colorful PEEPS® Brand Marshmallow Bunnies, white chocolate strawberry bark, and colorful homemade buttercream frosting for an over-the-top, fun and delicious Easter dessert!

TOTAL TIME
MIN.


INGREDIENTS
STRAWBERRY LEMONADE CAKE:
PAM® Baking Spray
1 pkg (15.25 oz each) Duncan Hines® Signature Strawberry Supreme Cake Mix, divided
1 pkg (15.25 oz each) Duncan Hines® Signature Lemon Supreme Cake Mix
4 eggs
1-1/2 cups water
1/2 cup vegetable oil
CAKE CRUMBLE:
reserved 1-cup cake mix
3 tablespoons unsalted butter, melted
WHITE CHOCOLATE BARK:
1 pkg (12 oz each) white chocolate chips
2 teaspoons vegetable oil
4 PEEPS® Yellow and Pink Marshmallow Bunnies
1/4 cup pink and yellow jelly beans and sprinkles
BUTTERCREAM FROSTING:
1-1/2 cups unsalted butter, softened
6 cups confectioners' sugar
1 teaspoon salt
2 teaspoons vanilla extract
1/4 cup heavy (whipping) cream
pink and yellow food coloring gel
10 PEEPS® Yellow and Pink Marshmallow Bunnies

INSTRUCTIONS
STRAWBERRY LEMONADE CAKE: Preheat oven to 350°F. Spray three 8-inch round cake pans with baking spray.
Pour strawberry and lemon cake mixes into a large bowl and whisk together. Measure out 1 cup cake mix, pour into a small bowl and set aside for bark. Beat large bowl of cake mix, eggs, water and 1/2 cup vegetable oil with an electric mixer on low speed until moistened, about 30 seconds. Beat on medium speed 2 minutes.
Divide cake batter evenly into pans, about 2-1/2 cups each. Bake 24 to 27 minutes, until toothpick inserted in centers comes out clean. Cool on wire racks 15 minutes. Remove from pans and cool completely.
CAKE CRUMBLE: Line a baking sheet with parchment paper. Stir together reserved 1-cup cake mix and 3 tablespoons melted butter. Pour onto baking sheet and break into pea-sized pieces. Bake 10 minutes, until crunchy. Cool completely. Reserve half of the cake crumble for filling between layers.
WHITE CHOCOLATE BARK: Pour white chocolate chips and 2 teaspoons vegetable oil into a medium microwave-safe bowl. Microwave on high 30 seconds. Stir and continue microwaving in 15-second increments until melted; stir until smooth. Pour over strawberry crunch on baking sheet and spread evenly. Place 4 PEEPS® Marshmallow Bunnies on top of bark and scatter jelly beans and sprinkles on top. Refrigerate 15 minutes, until set.
Cut white chocolate bark into large shards and reserve about half of them for decorating. Chop remaining bark into small bits.
BUTTERCREAM: Place butter in a large mixing bowl and beat on high speed until pale, smooth and creamy, about 2 minutes. Gradually add in the confectioners' sugar, beating on low speed until incorporated then follow with heavy cream, salt and vanilla and mix for one minute. Turn the mixer to high speed and beat for 4 minutes until buttercream is smooth, fluffy and stiff.
Divide buttercream evenly into 3 bowls. Use food coloring gel to dye one bowl pink and one bowl yellow. Place one cake layer on serving plate. Frost with a thin layer of yellow buttercream. Sprinkle with chopped bark. Place second cake layer on top and frost with another thin layer of white buttercream and bark.
Top with last cake layer. Frost bottom of strawberry lemonade cake with yellow buttercream, middle with white buttercream and top with pink buttercream. Use an offset spatula or bench scraper to smooth the sides and blend the colors slightly.
Decorate sides of cake with sprinkles, jellybeans and PEEPS® Marshmallow Bunnies. Just before serving, place large shards of bark into top of the strawberry lemonade cake, slice and serve!
Share a Photo
Share if you loved this recipe as is, or if you added your own #peepsonality.
Got a great recipe?
Share your favorite PEEPS-inspired recipe with us on Facebook and it could be featured on our website.