back to all recipes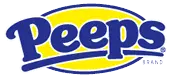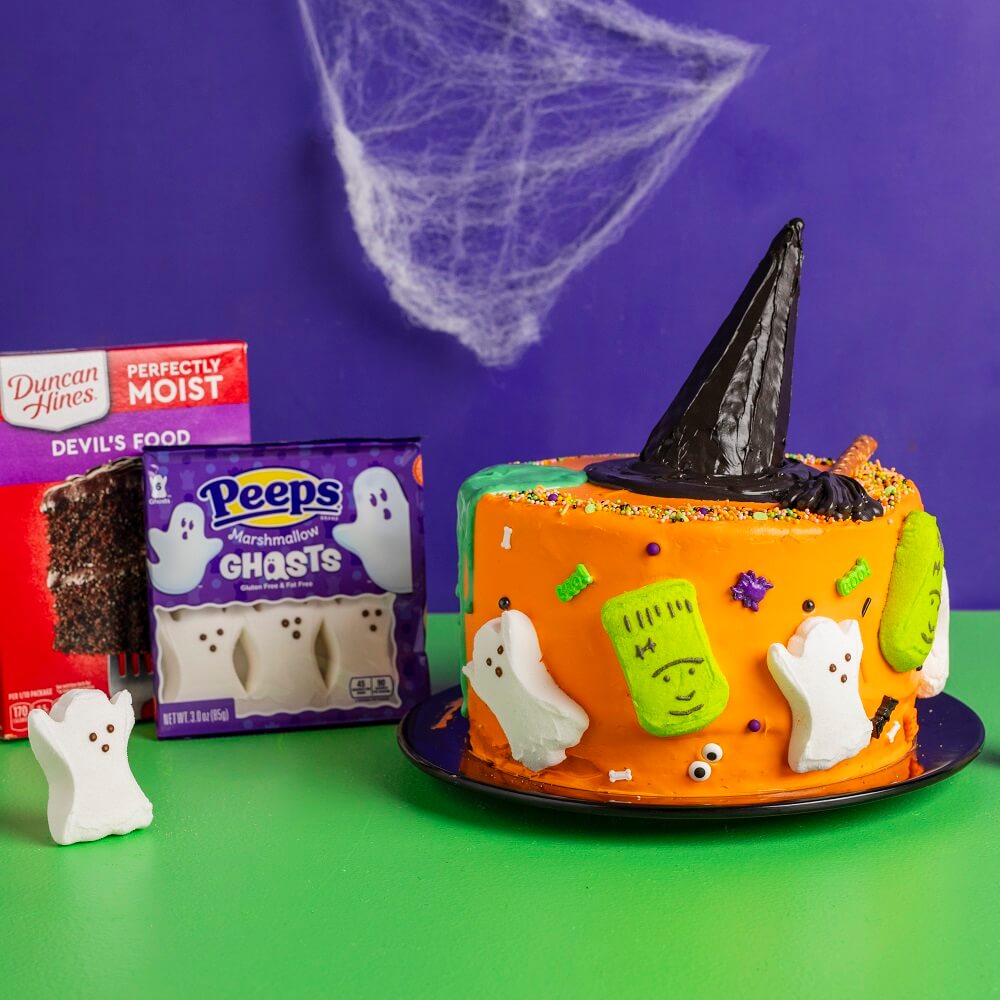 PEEPS® Witch Hat Halloween Cake
Our PEEPS® Witch Hat Halloween Cake recipe is a cute and fun Halloween dessert recipe, dressed up with a spooky witch hat, broom and delicious PEEPS® Marshmallow Ghosts and Monsters!

TOTAL TIME
MIN.


INGREDIENTS
PAM® Baking Spray
2 pkgs (15.25 oz each) Duncan Hines® Classic Devil's Food Cake Mix
2 cups water
6 eggs
1 cup vegetable oil
1-1/2 containers (14 oz each) Duncan Hines® Whipped Fluffy White Frosting
1 container (14 oz each) Duncan Hines® Whipped Chocolate Frosting
Orange, green, and black food coloring
8 PEEPS® Brand Halloween Marshmallow Monsters and/or Ghosts
1 pretzel rod
1 waffle cone

INSTRUCTIONS
Preheat oven to 350°F. Spray three 8-inch round pans with baking spray.
Blend both cake mixes, water, eggs, and oil in a large bowl with an electric mixer on low speed until moistened, about 30 seconds. Beat on medium speed 2 minutes. Divide batter evenly into pans. Bake 28 to 32 minutes, until toothpick inserted in centers comes out clean. Cool on wire rack 15 minutes. Remove from pans and cool completely.
Set about 2 tablespoons white frosting aside in small bowl. Scoop remaining white frosting into large bowl and dye frosting orange. Scoop 1/2-cup chocolate frosting into another small bowl. Use black food coloring to dye the small bowl of chocolate frosting black. Scoop black frosting into piping bag or freezer bag and cut off a very small corner.
Place one cooled cake layer on serving plate. Frost with about half of the remaining chocolate frosting; repeat layers. Top with third cake layer. Frost entire cake with orange frosting. Place PEEPS® Marshmallow Monsters and Ghosts around the sides of the cake and decorate with sprinkles.
Place pretzel rod off to one side of the top of the cake and use black frosting to pipe line for the broom. Cut a larger hole in the black frosting bag and pipe a circle in the center of the cake for the brim of your witches hat. Use remaining black frosting to cover the waffle cone and place in the center of the cake.
Use green and one small drop of black frosting to dye the remaining 2 tablespoons of white frosting green. Stir in about 1/8-teaspoon water until frosting is runny. Pour green frosting down one side of the cake. Slice your witch hat Halloween cake and serve!
Share a Photo
Share if you loved this recipe as is, or if you added your own #peepsonality.
Got a great recipe?
Share your favorite PEEPS-inspired recipe with us on Facebook and it could be featured on our website.