back to all recipes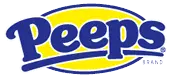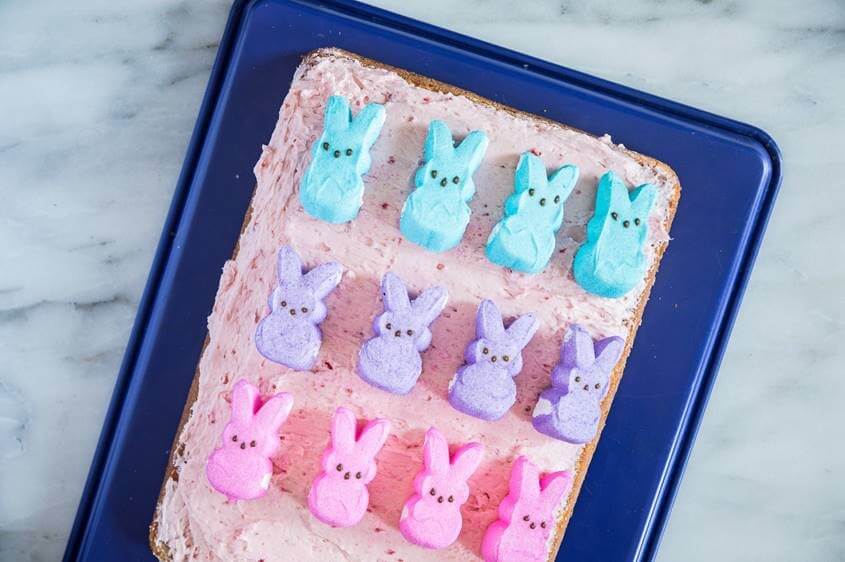 PEEPS® Strawberry Spring Sheet Cake Recipe
Perfect for any Spring gathering, this colorful cake packs a big strawberry punch!

TOTAL TIME
MIN.


INGREDIENTS
Vanilla Sheet Cake
(makes one 9×13 inch cake)
4 tablespoons (½ stick) unsalted butter, melted
3/4 cup sugar
2 tablespoons light brown sugar
2 eggs
1/2 cup vegetable oil
2 teaspoons vanilla extract
1/2 cup buttermilk

If you don't have buttermilk, you can DIY your own by combining ½ cup milk with ½ tablespoon lemon juice or white vinegar, and letting it sit on the counter for 10 minutes. Use immediately!

1 3/4 cup flour
1 tablespoon baking powder
1/2 teaspoon salt
9 multi colored PEEPS® Brand Marshmallow Bunnies for topping (You can top this with as many PEEPS® Marshmallow Bunnies as you want, 9 or 12 work great for slicing sizes.)
Strawberry Frosting
(makes 2 cups – enough frosting for 1 sheet cake)
3/4 cup (1 1/2 sticks) unsalted butter, softened
1 1/2 cups powdered sugar
3/4 cup fresh strawberries, 5 to 6 berries depending on size
1/4 teaspoon salt

INSTRUCTIONS
Vanilla Sheet Cake
Preheat the oven to 350°F and spray your baking pan.
In a medium bowl whisk together your butter, sugar and eggs until well combined. Whisk in oil and vanilla. Whisk in buttermilk.
In a large bowl, combine your flour, baking powder and salt, then whisk in your wets until smooth.
Pour batter into your sprayed pan and bake for 30 to 35 minutes at 350°F until the cake is golden brown and toothpicks clean. Using oven mitts, remove from the oven and let cool completely in the pan.
Spread your strawberry frosting on top of the sheet cake with a spatula, smoothing evenly to coat the whole surface. Top with multicolored PEEPS® Marshmallow Bunnies in whatever pattern you want! Cut into 3 rows of 3 squares. Wrap extra slices well in plastic and keep on the counter for up to 3 days or in the fridge for up to one week.
Strawberry Frosting
Cut off the tops of the strawberries with a butter knife, and then slice up – set aside.
Starting on a low speed use a hand mixer or a stand mixer with a paddle attachment to combine your butter and powdered sugar, 1 minute. Increase to a medium speed and whip until super smooth, about 3 minutes. Use your spatula to scrape the sides of your bowl well.
Add strawberries and salt. Mix until combined and fluffy, about 1 minute
FYI: This frosting is OUT OF THIS WORLD. Only thing: you have to serve it the day you make and frost it, otherwise the strawberries get soggy and lose flavor!
Share a Photo
Share if you loved this recipe as is, or if you added your own #peepsonality.
Got a great recipe?
Share your favorite PEEPS-inspired recipe with us on Facebook and it could be featured on our website.