back to all recipes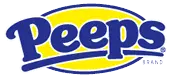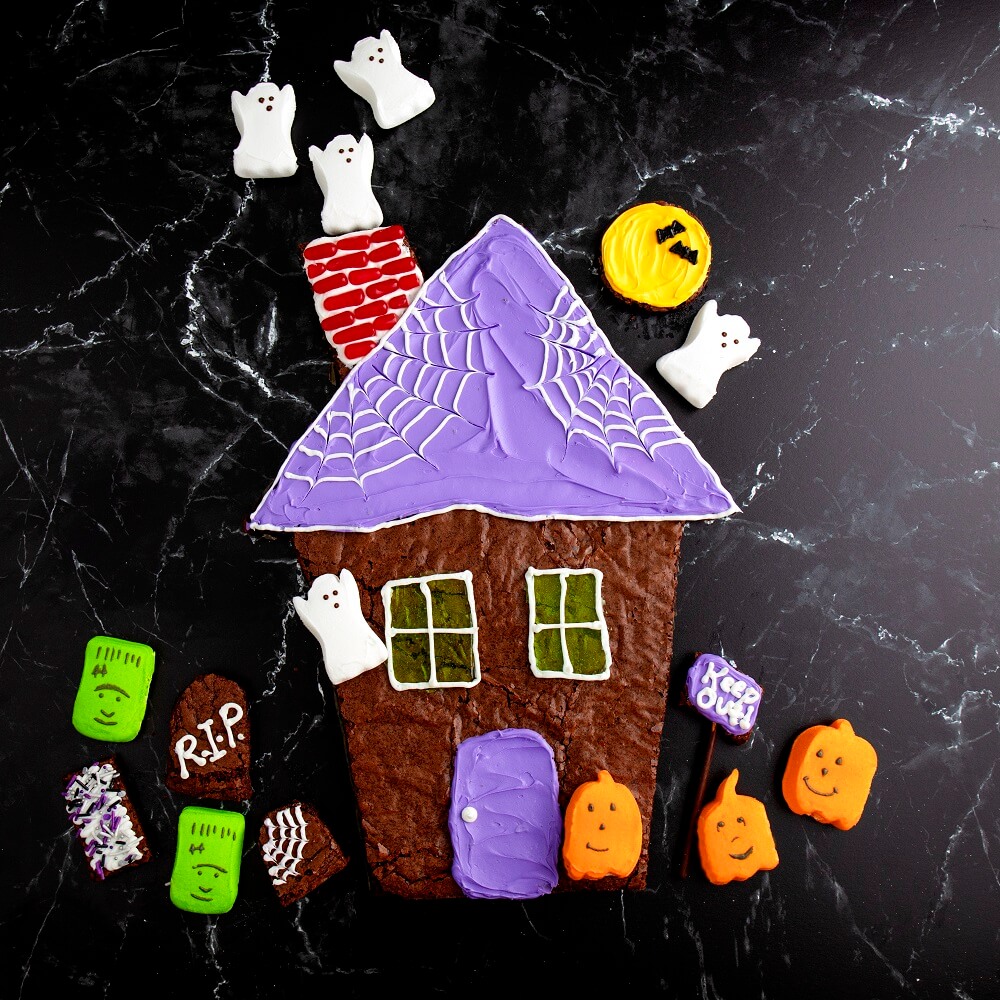 PEEPS® Brownie Haunted House
Our PEEPS® Brownie Haunted House is the most fun Halloween dessert recipe! Bake a double batch of Duncan Hines® brownies, cut out a spooky haunted house and decorate with Halloween PEEPS® Marshmallow Candies!

TOTAL TIME
MIN.


INGREDIENTS
PAM® Original No-Stick Cooking Spray
2 pkgs (18.3 oz each) Duncan Hines® Chewy Fudge Brownie Mix
4 eggs
1-1/3 cups vegetable oil
6 tablespoons water
6 green or yellow hard candies
1 container (14 oz each) Duncan Hines® Whipped Fluffy White Frosting
Purple and yellow food coloring
15 HOT TAMALES® Brand Candies
4 PEEPS® Brand Marshmallow Ghosts
4 PEEPS® Brand Marshmallow Pumpkins

INSTRUCTIONS
Preheat oven to 325°F. Spray bottom and sides of 17×11-inch rimmed baking sheet with cooking spray. Line pan with parchment, leaving overhang on the two long edges of the pan to help lift brownie out of pan once it has cooled.
Stir both brownie mixes, eggs, oil, and water together in large bowl until blended, about 50 strokes. Pour into pan and spread evenly. Bake 26 to 28 minutes, until toothpick inserted 1-inch from edge of pan comes out clean. Cool completely on wire rack.
Remove wrappers from candy. Place in a resealable bag and crush into fine crumbs. Line a baking sheet with foil. Pour candy out onto foil and make 2 rectangles about 1-1/2×2-1/2 inches each. Bake 3 to 5 minutes, until candy is melted. Cool completely.
Run a table knife around the edge of the brownie that is touching the pan. Gently lift brownie out of pan and onto serving surface. A piece of black poster board or a large cutting board will work well. Use a plastic knife to cut the brownie into a house shape. Carefully cut or tear away the visible parchment paper. Set brownie scraps aside.
Scoop about half of the frosting into a small bowl and dye it purple. Scoop about 2 tablespoons of white frosting into another small bowl and use yellow and orange food coloring to dye it for the moon. Scoop remaining white frosting into a piping bag or freezer bag; cut off a small corner of the bag.
Use purple frosting to frost the roof of your house and to make a door. Draw curved lines on the roof to make spider webs. Run a toothpick through the white frosting for a stringy spider web look. Place your candy rectangles on your house and outline them to make the windows. Frost the chimney with white frosting and decorate with HOT TAMALES® Candies to look like bricks.
Use your brownie scraps to cut a moon and some gravestones; decorate with yellow-orange frosting and sprinkles as desired. Finish your brownie haunted house with PEEPS® Marshmallow Ghosts and Pumpkins!
Share a Photo
Share if you loved this recipe as is, or if you added your own #peepsonality.
Got a great recipe?
Share your favorite PEEPS-inspired recipe with us on Facebook and it could be featured on our website.