back to all recipes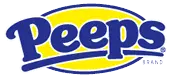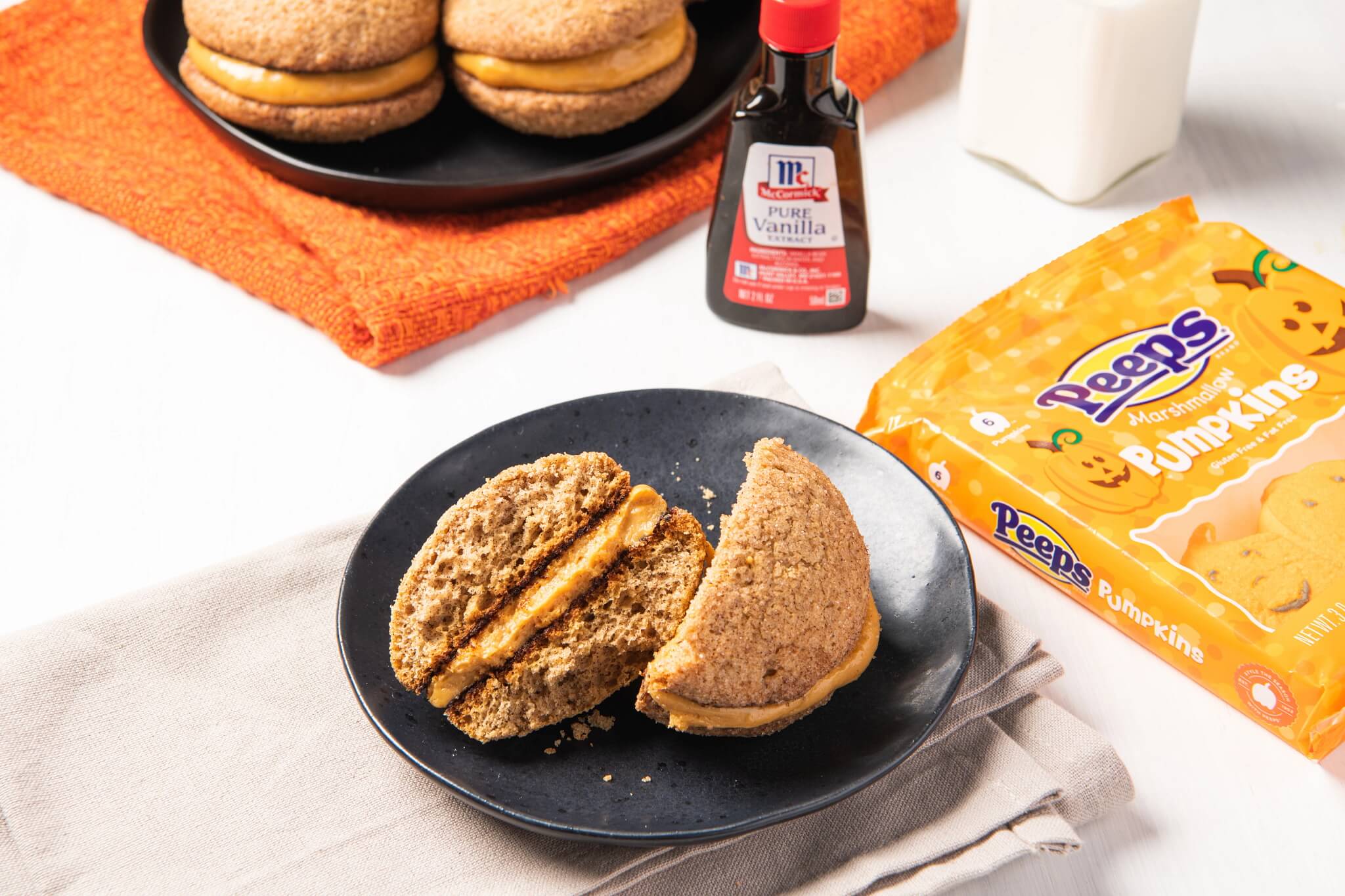 Churro Whoopie Pies with Dulce de Leche Cream
Perfect to make for any Fall event, these Whoopie Pies are a featured seasonal recipe on PEEPSONALITY® Live!, our series dedicated to showcasing PEEPS®-inspired recipes and crafts with fun, easy-to-follow tutorials that families can do together! You can find the recorded event and see more PEEPSONALITY® Live! videos on our Youtube channel.


TOTAL TIME
MIN.


INGREDIENTS
1 1/4 cups flour
4 1/2 teaspoons McCormick® Ground Cinnamon, divided
1/2 teaspoon baking powder
1/2 teaspoon baking soda
1/4 teaspoon plus 1/8 teaspoon salt, divided
1/2 cup firmly packed light brown sugar
1/4 cup vegetable shortening
1 egg
1 teaspoon McCormick® Pure Vanilla Extract
1/2 cup buttermilk
1/4 cup granulated sugar
8 PEEPS® Marshmallow Ghosts or PEEPS® Marshmallow Pumpkins
10 ounces (1 1/4 packages) cream cheese, softened
2/3 cup dulce de leche

INSTRUCTIONS
Line 2 large baking sheets with parchment paper; set aside. Mix flour, 1 1/2 teaspoons of the cinnamon, baking powder, baking soda and 1/4 teaspoon of the salt and in medium bowl; set aside.
Beat brown sugar and shortening in large bowl with electric mixer on medium speed until light and fluffy. Add egg and vanilla; beat until blended, scraping down sides of bowl as needed. Gradually beat in flour mixture alternately with buttermilk on low speed just until blended. Cover and refrigerate batter at least 2 hours.
Preheat oven to 350°F. Mix granulated sugar, remaining 3 teaspoons cinnamon and 1/8 teaspoon salt in shallow dish or pie plate. Working quickly to maintain batter consistency, scoop cold batter using a medium cookie scoop (about 2-tablespoon size) and place in dish with cinnamon sugar mixture. Spoon sugar over top to coat completely. Carefully transfer coated batter to parchment-lined baking sheets. Repeat with remaining batter, spacing about 3 inches apart on baking sheets.
Bake 16 to 18 minutes or until cookies are puffed and lightly browned, turning sheets halfway through baking. Cool completely on baking pans.
Meanwhile, for the filling, Place PEEPS® Marshmallow Ghosts or PEEPS® Marshmallow Pumpkins in large microwave-safe bowl. Microwave on HIGH 1 to 1 1/2 minutes, stirring halfway through. (Use caution when heating PEEPS® Marshmallows. They may be hot.) Stir until completely melted. Add cream cheese to bowl. Beat with electric mixer on high speed 2 to 3 minutes or until smooth and fluffy. Add dulce de leche; beat 2 to 3 minutes longer or until well blended and smooth. Cover and refrigerate filling 30 minutes.
To assemble whoopie pies, spread or pipe filling onto flat side of half of the cookies (about 1/4 cup each). Top with remaining cookies, pressing gently to spread the filling. Store whoopie pies between layers of wax paper in airtight container in refrigerator up to 5 days.
Piping Instructions for Top Decor – Optional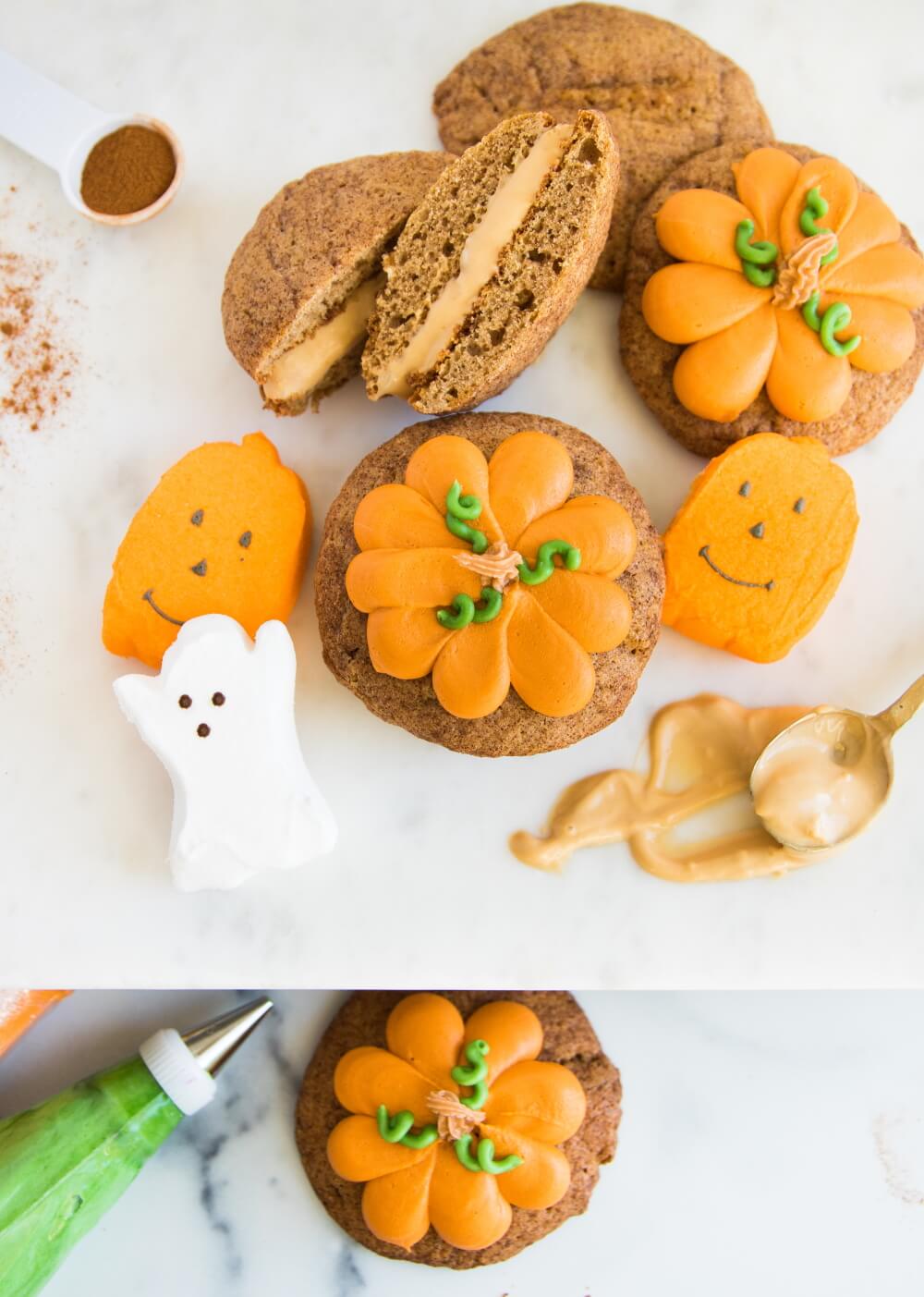 Start piping with tip 2A and orange buttercream. Start at the top of the whoopie pie. Have the tip almost touching the base and squeeze a large amount of buttercream, let it billow and pull in toward the middle, and then stop when you reach the center. Continue all the way around until you have a completed pumpkin top.
Use tip 18 with brown buttercream to pipe the stem. Squeeze and pull up while squeezing and then stop. Pull the bag up for a little pumpkin stem.
Use tip 5 and pipe small vines coming from the base of the stem.
You will need- Tip 2A, 18 and 5 for the pumpkin top.
Share a Photo
Share if you loved this recipe as is, or if you added your own #peepsonality.
Got a great recipe?
Share your favorite PEEPS-inspired recipe with us on Facebook and it could be featured on our website.