back to all recipes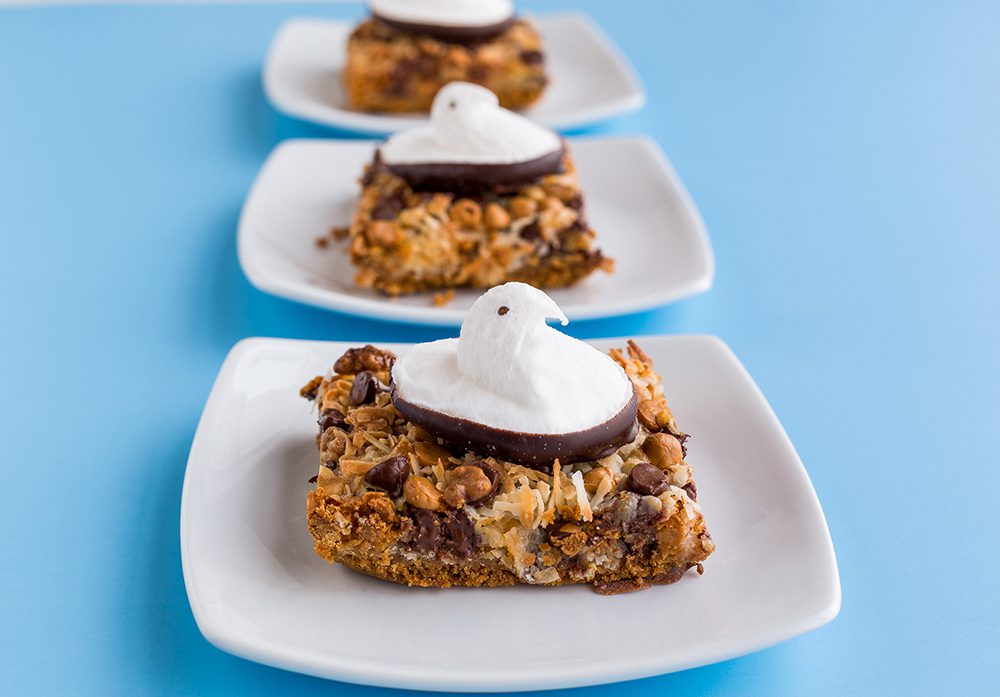 PEEPS® Coconut Chocolate Seven-Layer Cookies Recipe

TOTAL TIME
MIN.


INGREDIENTS
½ cup unsalted butter, melted
1 ½ cup graham cracker crumbs
6 ounces chocolate chips
6 ounces butterscotch chips
1 cup coconut flakes
1 cup chopped mixed nuts
1 (14 ounce) can sweetened condensed milk
15 Coconut Flavored PEEPS® Delights™ Chicks

INSTRUCTIONS
Preheat oven to 350 F.
In a 13×9 pan, combine butter and graham cracker crumbs and pat to create an even crust.
Top with chocolate chips, butterscotch chips, coconut, and nuts.
Pour condensed milk evenly over the mixture.
Bake 20 to 25 minutes.
While still warm, place PEEPS® Chicks in rows, spaced according to bar size (3 across the 9-inch side and 5 across the 13-inch side).
Allow to cool completely before cutting into bars.
Share a Photo
Share if you loved this recipe as is, or if you added your own #peepsonality.
SHARE A PHOTO
Got a great recipe?
Share your favorite PEEPS-inspired recipe with us on Facebook and it could be featured on our website.
SHARE A RECIPE