back to all recipes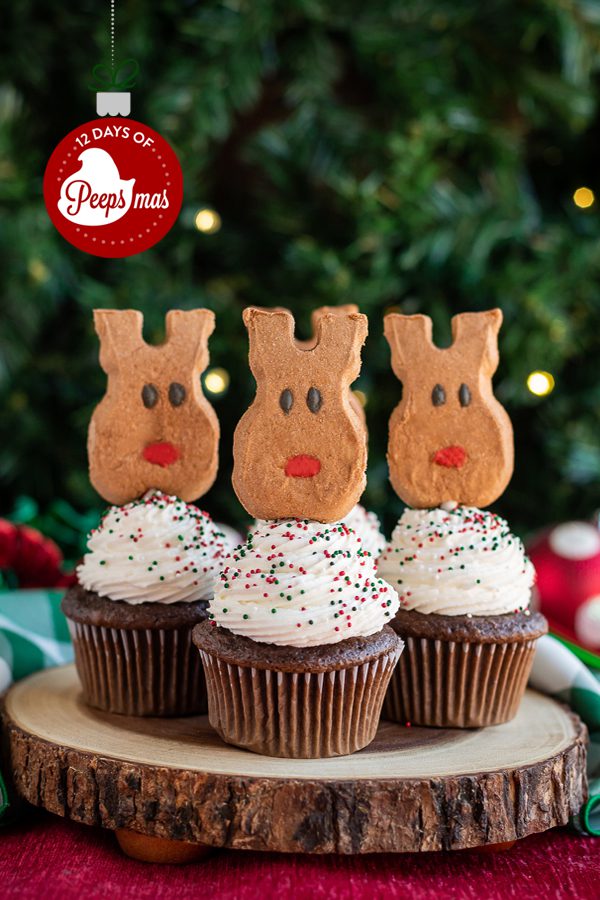 Chocolate Mousse Cupcakes
On Dasher, on Dancer, on Prancer, on PEEPS! These tasty reindeer-topped, chocolate mousse cupcakes are a festive and fun addition to any holiday celebration.

TOTAL TIME
MIN.


INGREDIENTS
To Make the Cupcakes:
2 cups sugar
1-3/4 cups all-purpose flour
3/4 cup cocoa powder natural, not Dutch process
1-1/2 teaspoons baking powder
1-1/2 teaspoons baking soda
1 teaspoon salt
2 eggs
1 cup milk
1/2 cup vegetable oil
2 teaspoons vanilla extract
1 cup water boiling
24 PEEPS Marshmallow Chocolate Mousse-Flavored Reindeer
The Make the Chocolate Mousse Filling:
1 small size box instant chocolate pudding mix
2 tbsp cocoa powder
2 cups very cold heavy cream
To Make the Frosting:
1 cups butter, softened
4 1/2 cups powdered sugar, sifted to remove any lumps
1 tsp vanilla
1/4 tsp salt
2-3 tbsp room temperature heavy cream, heavy whipping cream or half and half (milk can also be used)

INSTRUCTIONS
To Make the Cupcakes:
Heat oven to 350

°F

. Line 24 muffin cups with standard sized cupcake liners.
Mix together sugar, flour, cocoa, baking powder, baking soda and salt in large bowl.
Add eggs, milk, oil and vanilla; beat on medium speed of mixer 2 minutes. Carefully stir in boiling water. The batter will be quite thin. Fill prepared cups 2/3 full with batter.
Bake 22 to 25 minutes or until wooden pick inserted in centers comes out clean. Cool completely in pans on a wire cooling rack prior to filling.
To Make the Chocolate Mousse Filling:
Combine dry instant pudding mix and cocoa powder in a bowl and stir to combine. Add whipping cream and mix with an electric mixer on high for approximately one minute.
To fill cupcakes with mousse, once cupcakes are completely cool, use a knife to cut a hole about 1″ in diameter and 1″ deep into the center of each cupcake. Using the knife, gently lift the center piece out of the cupcake after cutting. Cut the bottom off of each piece and set the tops aside, to be placed back onto cupcakes after filling.
Place mousse filling into a large Ziploc style bag, and cut a hole in one bottom corner, approximately 1/4" in size. Use this bag to pipe the mousse filling into your cupcakes.  After filling cupcakes, replace the cut out top pieces of the cupcake if desired (they can be left off, putting them back on the cupcake makes frosting easier).
To Make the Frosting:
With an electric mixer, cream butter together until light and fluffy, approximately 3-5 minutes. Butter should become a very pale yellow color.
Add powdered sugar, 1 cup at a time. After each cup, mix well until powdered sugar is fully incorporated. Continue until you have added all the powdered sugar.
Add vanilla, salt and heavy cream, and mix until well combined. If a firmer frosting is desired, add more powdered sugar, 2-3 tbsp at a time. If a thicker frosting is preferred. Add more heavy cream, 1 tsp at a time, if a thinner frosting is preferred. Pipe or smooth onto cupcakes.
Top each cupcake with a PEEPS Marshmallow Chocolate Mousse-Flavored Reindeer. Serve and enjoy!
Share a Photo
Share if you loved this recipe as is, or if you added your own #peepsonality.
SHARE A PHOTO
Got a great recipe?
Share your favorite PEEPS-inspired recipe with us on Facebook and it could be featured on our website.
SHARE A RECIPE